Hail Damage Roof Repair
Hail Damage Roof Repair Albuquerque NM
Give Finishing Touch Home Improvements, LLC a Call at 505-489-6855 to Schedule an Appointment for a FREE Hail Damage Roof Repair-Replacement Quote for Your Albuquerque Home Today!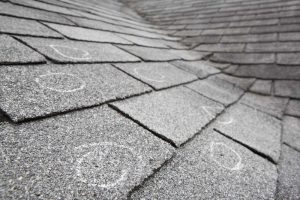 Finishing Touch Home Improvements LLC – Albuquerque Storm and Hail Damage Roof and Exterior Home Specialists
Albuquerque, NM is known for it's severe weather and hail storms, which can cause serious damage to the exterior of your home – especially your roof. At Finishing Touch Home Improvements, LLC, we are well versed in storm and hail damage roof repair in the Albuquerque region. Storm damage roof repairs and replacements are typically covered by most homeowners' insurance policies. We work with all major home insurance companies and will handle the entire claim and repairs process to take the headache and stress out of your day. Another advantage of working with Finishing Touch Home Improvements, LLC is that we also specialize in other areas of exterior storm and hail damage repair including siding repair, gutter repair and window replacement, so you only have to deal with one company and specialist to handle your entire insurance claim and repair.
Pay Attention to Roof Hail Damage
Hailstone are normally about 1″ around. When it's flying downwards from storm clouds it attains a speed of up to 60 mph, which is really fast. When hail hits a roof it normally will create a hole, crack the surface of the shingle or flatten the surface, permanently altering the shingle and in turn compromise its effectiveness against rain water, snow and its accompanying water when it eventually melts. After a period of days, weeks, months or years the hail damaged shingle or shingles on a roof will no longer stop water from coming in through your roof, into your house and eventually causing major expensive water damage to your home. The odd fact about roof hail damage is it that it is not visible to the eye unless you get up on your roof after a storm and inspect it. Roof hail damage can cause staggering amounts of damage in your home, which is normally very expensive.
The professional roof inspectors at Finishing Touch Home Improvements are experts at finding all the hail damage on your roof after a big hail storm. You can rely on our team to find the damage and then help you obtain the needed roof repairs to keep your home from further damages. Water leaking inside a home during a big rain storm can cause huge amounts of expensive damage including damage from the water itself and its accompanying mold, if it's not repaired in a timely fashion. When a big hail storm hits the Albuquerque area, call Finishing Touch Home Improvements, the Albuquerque hail damage roof repair professionals. Our team of upbeat, trained roof estimators will come to your home on time, inspect your roof for hail damage, help you submit and insurance claim to your home owners insurance carrier and then arrange our team of roofs to come out and complete the needed roof repairs.
Your Home Owners Insurance Could Cover Paying for a New Roof
Roof hail damage repair is covered by most home owners policies. Roof hail damage may be covered anywhere from 1 to 2 years after the occurrence. Be sure to file your damages claim with your home owners insurance company as soon as the damage occurs, or you may lose out on getting a new roof. The last thing you want to have to do about your roof damage from hail is to pay for the roof repairs, or worse yet, roof replacement, out of your own pocket.
The smart action to take when you get roof hail damage is to call the Albuquerque roof repair professionals at Finishing Touch Home Improvements and make an appointment for the company to come out to your home, complete a roof repair estimate right after the damage happens and then if you like the estimate, work together with us to file your insurance claim to see if your coverage will pay for your roof repairs.
Call Today for NO-COST Hail Damage Repair Estimate
Allow the team at Finishing Touch Home Improvements, an Albuquerque roofing company, to work up your estimate to repair all the hail, wind and storm damage. Call us today at 505-489-6855 or complete our online Get a FREE Roof Repair-Replacement Estimate form. <-Click here to go the the form.
We look forward to serving you and helping you bring your roof back to the condition it was in before the storm, or better yet, back to a better condition.