METAL ROOFING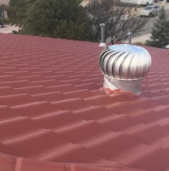 Metal Roofing Albuquerque NM
Give Finishing Touch Home Improvements, LLC a Call at 505-489-6855 to Schedule an Appointment for Metal Roofing Quote for Your Albuquerque Home Today!
If you are looking around for an environmentally friendly and dependable roofing system for your home or commercial property in Albuquerque, NM, metal roofing installed by Finishing Touch Home Improvements, LLC, is right for you. Sustainable and offered in a plethora of designs, architecturally attractive metal roofs are highly functional and are preferred by countless Albuquerque, NM, home owners.
What Are Metal Roofing Systems?
In layman terms, these are roofs made up of panels or pieces of metal, such that they are installed as a component of the envelope used to separate the building's interior from its exterior. They are quite popular and both home owners commercial building owners have a penchant for these systems as they are not only beautiful but long-lasting as well. In addition, since they are offered in an assortment of materials and colors, they can complement any existing structure.
Why Use Our Albuquerque, NM Metal Roofing Systems?
While there are countless reasons as to why you should use a metal roof system for your building in Albuquerque, NM, a handful of the most important perks associated with it are outlined below.
Metal roof systems are durable. They offer exceptional resistance to problems such as eroding, shrinking or cracking.
These roofing systems mean almost zero maintenance costs since they have a larger life expectancy.
Metal roof systems in the Albuquerque, NM area can endure severe weather conditions such as wind storms hail storms.
Most metal roof systems employ interlocking panels. This translates into protection against damage due to strong winds.
These systems are a cost-efficient alternative.
Metal roofs help lower energy costs. They reflect UV rays which keep the structure cool and help owners cut corners in terms of energy expenses.
These systems are environmentally friendly. The coat on top reflects rays which lead to an increase in energy efficiency.
Metal roofs are strong and versatile.
Metal roof systems come with endless possibilities in terms of expansion and design.
They are offered in light-colors which amplifies their heat-reflecting abilities.
Metal roofs are known to last up to 2-3 times longer than any asphalt-based roofing system.
Metal roofs can be installed on surfaces that are steep-sloped or low.
These systems are lightweight ensuring that the structure does not have a very heavy roof load to support.
Apart from all the advantages listed above, they are an economical solution for building owners who cannot afford to pay a fortune for a roofing system. Our Albuquerque, NM metal roof systems are installed quickly and can be the ultimate solution for anyone planning for expansions or additions in the future.
Metal Roofing Application and Materials
As far as the materials for metal roofing are concerned, they are versatile and a building owner is bound to find something to suit his needs and pocket. However, the most common types that are used for these roofing systems are listed as follows.
Galvanized steel is used for these systems where a sheet of wrought iron and steel is coated thoroughly with zinc. These sheets are then rolled together to form corrugated sheets.
Zincalume or galvalume is also used which is actually a mixture of aluminum, zinc and steel coated with silicon.
Tile sheets of metal are also used once they are painted.
For those seeking distinctive designs, stainless steel is the ideal choice. Specifically designed to counter bad weather, they are rolled uniformly into the standing seams.
Copper roofs are the material of choice for owners who want their structures to be prominently distinguishable. Designs using copper are more sustainable and promise countless other uses.
Aluminum is one of the most long-lasting metals. While it is a bit expensive as compared to other materials, it offers one-of-a-kind resistance against corrosion. The metal has a naturally high reflectivity rendering energy efficiency for any building.
Stone coated steel is an option where zinc-coated panels are often used.
Lead is also an available option.
Roof Coatings
Perhaps the most attractive aspect of a metal roof system is the endless variety of options that exist for roof coatings. A building owner can use coating to make the structure waterproof, anti-rust or heat reflective.
At Finishing Touch Home Improvements, LLC, we believe that building is more like a style statement and by using our award-winning roofing systems it is possible to inspire awe instantly.
Contact us at 505-489-6855 to get your metal roof system quote today!