Albuquerque Roof Care Tips for Homeowners
Albuquerque Roof Care Action Plan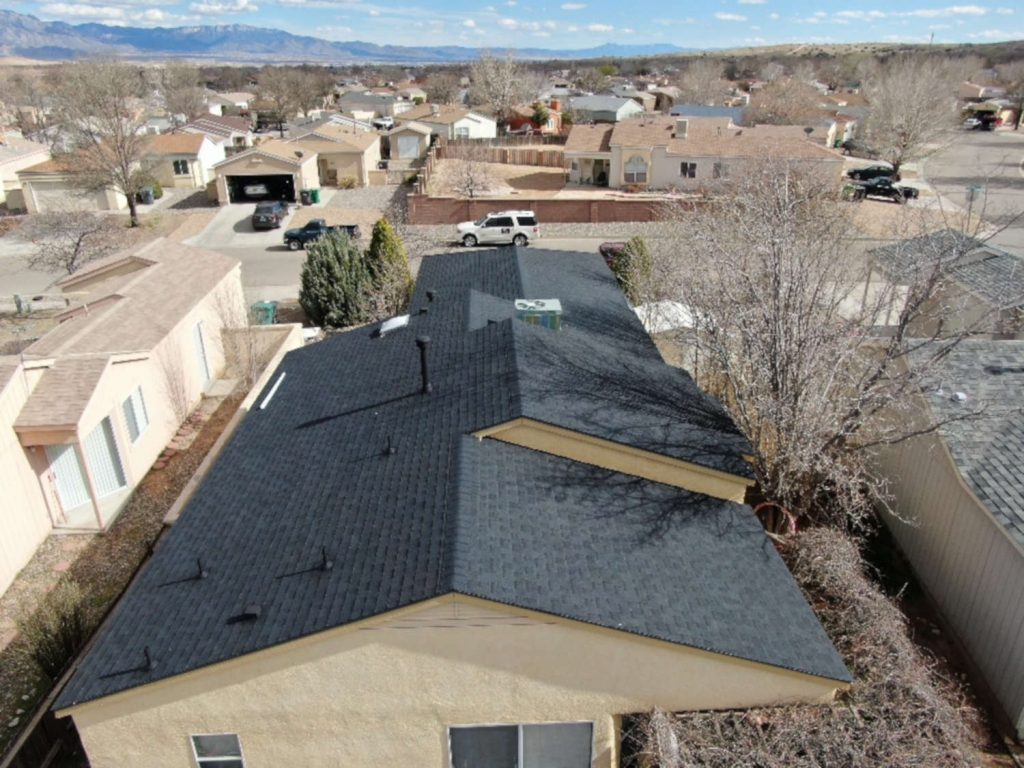 An Albuquerque roof takes the brunt of winter head on each year. When weather comes it leaves behind tree limbs, tree leaves, snow, ice and when it all melts, lots of water. When spring rolls around clean all the debris like broken branches, tree twigs and leaves and move any standing water off your roof by pushing it toward your rain spouts or roof gutter systems. The best way to get your roof into tip top shape each year is to create a roof care action plan and follow it. The Albuquerque roof care action plan describe herein is as follows:
Inspect & Clear Gutter System
Leaves, twigs, small branches, dirt and dust clog up gutter systems from fall until the end of winter. Gutters will start to flow over with water when serious clogs keep water from flowing down a gutter system's drain spouts from a rainstorm or snowstorm. The overflow water from a clogged gutter will most likely negatively affect a homes' entire structure, including exterior and interior walls, roof systems and even the concrete foundation it is built on. Each spring homeowners need to act on their home's gutter system by physically inspecting it from end to end to make sure it is in good working condition. This includes taking following steps: Make sure it is securely connected to the home the entire length of the structure; make sure the system is leak free with no holes. This can be accomplished by running a water in the gutter system from the home's water hose. If there are any leaks, they need to be sealed; check to make sure water is flowing out away from the home once it makes its way down the downspout of the gutter system.
Attic Examination
Attics at times may feel invisible, due to the fact they are not normally used or viewed very much. The fact is an attic (if the home has one) is a working integral part of a home. It is part of the ventilation system for a home. It is the area of the home underneath the roof, making it part of the home that is directly connected to the outside, meaning snow and rain. It is important to check the attic after each rain and snowstorm to see if there are any roof leaks. If there are roof leaks you can see, or if it smells musty and moldy it is critical to take care of the problem immediately before it becomes a bigger one. If you cannot fix yourself, your next move to make is to call an Albuquerque roofer for a free inspection and estimate.
Tree Exam and Trimming
Tree's are living growing plants, susceptible to losing leaves, twigs and branches all year round. Albuquerque roofs next to trees are gathering points for all the parts of a tree that fall off. To limit the exposure of an Albuquerque roof to adjacent trees the smart thing to do is to trim them so leaves, branches and twigs fall on the roof as little as possible. Ask any Albuquerque roofer and they'll tell you trees are not good for a roof. By maintaining your tree trimming it will limit the affect a tree has on a home's roof system.
Roof Inspection and Cleaning Maintenance
Roofs seem invisible with little requirement or need for examination. Nothing could be further from the truth. A roof is a gathering point for items seen and unseen. Those items are flying debris from storms, tree branches, leaves and twigs, dirt, dust, snow and rainwater. Inspect your roof on a monthly basis at a minimum. Pick up and clean every bit of trash and debris during your inspection. Roof inspections can be tricky because unless you have a trained eye, you may not know what to look for and make a note about. If you're not sure what to check for during your Albuquerque home's roof inspection, give the Albuquerque roof company professionals at Finishing Touch Home Improvements, a call.
Red Rust and Nasty Mold Observation
Observable rust growing on metal or steel of any type on your roof is a sure sign there are issues with water on your roof. If you see rust growing on steel, scrub it clean with a hard wire brush. After the rust is removed paint it with no-rust primer and then paint. If you observe mold or algae developing on your Albuquerque roof, apply a wet it and forget it product to treat the problem.
Examine Roof Flashing and Mortar
Complete a roof flashing and mortar inspection several times a year. Make sure during your inspection the flashing is securely in place and is in excellent shape. If there are issue with flashing, scrape off the compromised caulking, scrape it off, clean the area completely and then put on new caulking to reseal the area. Any areas clearly indicating caulking or mortar in poor shape, reseal all of them with caulk and mortar to bring the section back to being in good shape.
Albuquerque Roof Care Tips Simplicity
Roof care is a simple thing. All that is needed to maintain your roof is basic examination, basic cleaning and maintenance if needed and corrective action if needed.
Some of the simplest spring roof maintenance tips, such as knowing how to clean a roof, are regularly ignored. These minor problems can add up to be very costly if not taken care of regularly. It is less painful to spend a few dollars now on regular maintenance rather than spending a fortune on a major repair later.