The Logic of a New Albuquerque Roof Before Installing Solar Panels – Part One
In Albuquerque, solar electricity has made a spectacular comeback in recent years. Solar photovoltaic cells convert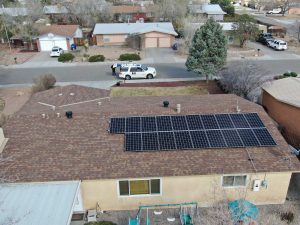 sunshine into useful electricity far better now than ever, making adding solar panels to your home completely viable in most instances. That being stated, your Albuquerque home's roof needs to be assessed a qualified Albuquerque roofing company to see if it is ready for solar panels to be mounted to it without the roof needing repaired or replaced anytime soon into the future. The last thing you want to do is install expensive solar panels and then uninstall them and reinstall them for a roof replacement shortly thereafter. Below is a description of what needs to be checked on your roof and potentially repaired or replaced before you install permanent solar panels.
Solar Panel Installation Roof Requirements
When considering installing solar panels on your home's roof, look at replacing the roof beforehand if the roof is older than 20 years. Solar panel systems functional lifespan now is approximately 25 years. A shingle roof system, especially in the high UV ray climate of Albuquerque, NM, normally is good for around 20 years. If the roof on your home is older and will need replacement sooner than later, replace it before installing your solar panel system so you don't have to take them off and put them back on to replace your roof down the road.
Review Your Roof's Pitch and Direction
If a roof's pitch degree is very high, it may be higher than the maximum allowed for solar panel installation. Check to make sure your roof meets the maximum pitch level allowed for solar panel installation. If a roof is facing east and west and not north and south, it more than likely will not be usable for a solar panel system because it will not receive enough sunlight to generate enough electricity to run a system. Check to make sure your home's roof faces north and south so it will be the needed sunlight requirements for a solar panel electrical system. If your home does not have a southern facing roof, it may not be in your best interest to install a solar panel system. If your home's roof is not right for a solar panel system, look at mounting on the ground on the south side of your home if the sun exposure is sufficient or look at installing it on top of your home's garage roof or patio roof, if either will support the weight of the solar panels.
Next Stop—Solar Panel Purchase & Installation
After you have had your roof looked at by a professional Albuquerque roof company inspector and you've made the determination to install a new roof, the next step is to install the new roof if needed. The next call to make is to call a professional solar company. They will inspect your roof and then let you know if need to update your roof with additional roof supports so the roof will hold the additional weight of 14 plus solar panels and the accompanying equipment that is included to run the solar panel electrical system. Once any needed roof upgrades are completed, your new solar panel system can be installed and start supplying your home with electricity.