The Logic of a New Albuquerque Roof Before Installing Solar Panels – Part Two
In Albuquerque, solar electricity has made a spectacular comeback in recent years. Solar photovoltaic cells convert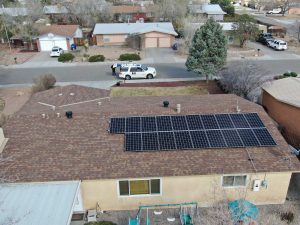 sunshine into useful electricity far better now than ever, making adding solar panels to your home completely viable in most instances. That being stated, your Albuquerque home's roof needs to be assessed by a qualified Albuquerque roofing company to see if it is ready for solar panels to be mounted to it without the roof needing repaired or replaced anytime soon into the future. The last thing you want to do is install expensive solar panels and then uninstall them and reinstall them for a roof replacement shortly thereafter. Below is a description of what needs to be checked on your roof and potentially repaired or replaced before you install permanent solar panels.
Roof Square Footage Solar Panel System Requirement Review
A solar panel system required to provide enough electricity for your home will include several solar panels. Your home's roof will need to provide enough space for all the solar panels to be installed to power your system. Most homes require anywhere from 14 to 16 solar panels installed. The minimum total square footage needed to handle 16 solar panels is about 450. Bear in mind this square footage must include the needed space where all installed solar panels are contiguous with the roof with none of the panels over hanging the roof itself.
Installed Roof Ventilation Device Intrusion Review
Roof vents for plumbing devices such as air conditioning, heating and hot water heaters are part of every roof. Make sure roof vents are not covered over by any of the new solar panels being installed on your roof. If this were to happen, if the plumber needed to get to the vent for any reason it could be disastrous to say the least.
Trim Property Trees
Tree leaves slow down sunshine for solar panels. So, the smart money to prevent tree leaves from blocking your new solar panel's access to sunshine, be sure to allow for any nearby tree foliage when installing new solar panels on the roof of a home, or on any other nearby structure or the ground. If the close by trees will end up blocking the sun from reaching the solar panels, the trees should be trimmed so that the sun's rays are not blocked at all. If you need to make a request of your neighbors to trim their trees, do it before you make the investment into solar panel system, so your purchase is not wasted.
Next Stop—Solar Panel Purchase & Installation
After you have had your roof looked at by a professional Albuquerque roof company inspector and you've made the determination to install a new roof, the next step is to install the new roof if needed. The next call to make is to call a professional solar company. They will inspect your roof and then let you know if need to update your roof with additional roof supports so the roof will hold the additional weight of 14 plus solar panels and the accompanying equipment that is included to run the solar panel electrical system. Once any needed roof upgrades are completed, your new solar panel system can be installed and start supplying your home with electricity.