Facts to Know About Shingle Roofing Materials
Hey Albuquerque home owners, did you know roof shingles on your Albuquerque roof are technologically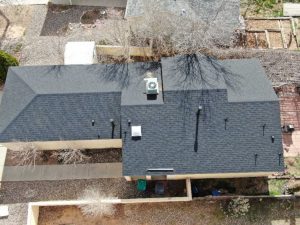 designed to last for a very long time. They feel gritty, look multi-colored when examined closely and contain a make up of tar and paper. How did roofing material companies come up with this product design and why is it so good? Read further to learn more.
Shingles for roofs are made with an asphalt-saturated base covered on one or both sides with asphalt or modified-asphalt, the exposed surface impregnated with slate, schist, quartz, vitrified brick, stone, or ceramic granules, and the under-side treated with sand, talc or mica to prevent shingles from sticking to one-another before use.
The top side surface made up slate or other materials stop ultra-violet (UV) sunlight. UV light is the cause of shingle deterioration of a shingle. The granules offer a certain amount of protection for the main part of the product, which is asphalt. The lighter roofing shingle colors can provide a certain level of heat reflection in high hot climates like Albuquerque or Phoenix, while darker colors can provide a certain level of heat absorption in cooler climates like Maine and upstate New York. There are roof shingle products offered that are infused with copper or bio-chemicals to help stop algae growth on the product in humid or wet climates. Most shingles offered today come with self-sealing strips underneath to help stop the shingles from lifting when high winds come along.
Asphalt Roof Shingles Are Most Popular
Homeowners need to know what products were used to build their home. As it turns out, asphalt shingles are used to roof most pitched roof homes in the USA. They cost less than metal roofing material and they work well in both dry and wet climates.
Roof Shingles are Robust
3-tab asphalt shingles make up most of the shingle product sales in the country. The product is made with asphalt, paper and granules, all of which protect the it from harsh UV sunlight, rain, snow and general harsh weather. The grit built into asphalt shingles may appear to have no use, but they actually are big part of why the product lasts so long and is so good at providing a strong long lasting roofing system for your home.
Asphalt Shingles Overlapping Tabs
It may seem obvious, but one method of making sure your roof's lifespan is super long is it to overlap each set of shingles as they are being installed. Each shingle should be secured to the roof by using 4 roof nails or 3 roof staples. To improve the security of each shingle on the roof as it is being installed, roof shingle adhesive should be added to seal each nail or roof stable penetration.
Proper shingle installation should be done where each shingles adhesive strip is overlapped the same way, shingle after shingle for the entire new roof system installation process. The adhesive tar on each shingle with melt from general outdoor sunlight heat, connected the entire roof system set of shingles one by one together. Between the shingle granules, asphalt composition of the shingles and proper installation of the entire system, a new roof should last from 15 to 25 years long.