Great Albuquerque Roof Maintenance Tips – Part One
Albuquerque Roof Maintenance
Annual roof care in Albuquerque, NM can be overwhelming. With completion of set of regular maintenance tasks each year, Albuquerque homeowners will be able to realize money savings and maintain their roof for years and years.
Even if your roof looks rough and not kept up, it more than likely does not require replacing. Each year if you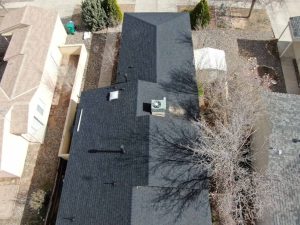 thoroughly wash and clean your roof, you will increase the effective economic life of your roof. If your roof shows black streaks, patches of algae, moss or mold, there are several strategic action steps you can take right now to clean it and make it back in shape very quickly.
A good, thorough washing will remove moss, algae, and black streaks from your roof. By using a professional roof cleaner to wash it, your roof will have a brand-new appearance. Most cleaners will continue to keep the roof clear of streaks and mold for over a year.
Do It Yourself Roof Cleaning
Keep up your roof protection year-round by applying the same roof washing cleaning product every 18 to 24 months, regardless if there is not any visible build up of moss, algae, black streaks or mold. This systematic scheduled strategy will keep your roof clean and free of any issues, while helping maintain the structural integrity of the roofing product material used to create the roof initially. Doing this will improve the economic life of your roofing shingles. Many people believe roofing shingles under warranty do not need to be washed on a regular basis, but the fact is, most roofing shingle manufacturers state very clearly on their website and packaging that the product needs to be cleaned on a regular basis.
Bi-Annual Roof Inspections
An important part of Albuquerque roof maintenance is completing a bi-annual roof inspection. Do a complete visual inspection of your entire roof from top to bottom, including all roof penetrations from heating/cooling vents and hot water heater vents. Make sure to take notes while completing the inspection of any noticeable wear or holes that may have developed on the roof. Inspect shingles or tile from one end to other end of the roof, plus inspect all roof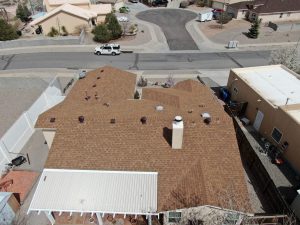 sections that end along a roof section wall of any secondary roof stories of the home. If you note any issues, write them down and then determine a course of action to repair or replace any section immediately. The last thing you want your roof to do is leak because you did not address a roofing problem right away. Finding problems now and fixing them can save you tons of money down the road.
To make sure your roof lasts if possible, keep it clean by washing it regularly and keep it free of dirt, dust, leaves and branches by checking it after big winds and storms and cleaning it up afterwards. The result will be your roof lasting longer and costing you less over the life of the roof.
Maintain your roof on regularly scheduled basis by inspecting it regularly, keeping it clean and repair it right away when issues are found.