Great Albuquerque Roof Maintenance Tips – Part Two
Roof Inspections After Rain, Hail or Snow Storm
Inspecting your home's roof after all storms is an important strategy you should follow for good roof maintenance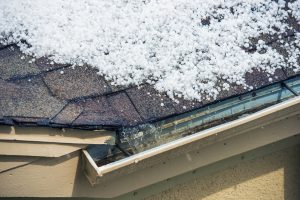 strategy. Storms reek having on roof homes. Make use of a ladder and get up on your roof and do a complete roof inspection after every storm. If your roof lost a shingle or shingles due to the storm, replace them right away. Call a roofer immediately to complete any roof repairs involve bigger roof sections. If you have access to an attic in your home, climb up and review the entire interior of your roof to see if there any leaks or visible signs of water from the storm that have made their way into your home due to roof leak.
Complete a full inspection of the entire ceiling of your home to see if any leaks appear. Water can get through roof penetrations and the show up in other areas of you home in unusual places. Inspect all the areas of your home, even in the ceilings of closets, to check for leaks. You may find a leak that can be fixed now, instead of down the road when a ton of water damage has been done, which will most likely be very expensive to repair. Be sure to check all roof penetrations, including roof flashing to make sure none of it is wrecked from the storm. If there is visible damage on your roof flashing or roof penetrations (roof vents for plumbing, heating and cooling) fix it immediately.
General Roof Maintenance with Regular Cleaning
Your home's roof is the primary structure, besides your home's walls, that provides you with the required structure that keeps the weather out where it belongs, outside. Roofs are not designed to carry tons of dirt, dust, tree leaves, tree branches, water or snow. Take off any excess visible debris such as leaves, branches and sticks and remove any excess snow or ponding rainwater on a regular basis. Storms causing elements like branches, leaves and other damaging material to gather on your roof can create roof damage. Roof damage can lead to roof problems that cost major amounts of money.
To make sure your roof lasts if possible, keep it clean by washing it regularly and keep it free of dirt, dust, leaves and branches by checking it after big winds and storms and cleaning it up afterwards. The result will be your roof lasting longer and costing you less over the life of the roof.
Maintain your roof on regularly scheduled basis by inspecting it regularly, keeping it clean and repair it right away when issues are found.