Great Albuquerque Roof Maintenance Tips – Part Three
Once winter has passed, any left-over snow will melt away, pesky icicles exit left and cold weather holidays are way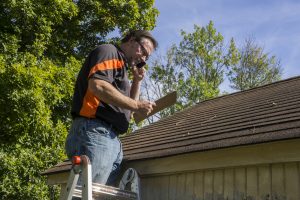 over, it's time to get up on your roof and clean it. Hard winters, which there are very few of in New Mexico, many times leave roofs in a state of disarray, with tons of leaves, tree branches, dirt and roofing issues cause by winter long ice.
These issues and the elements causing them have a negative effect on most home roofs. Once winter is gone, it's high time to get up on your roof (if it's safe to do so) and complete a roof inspection and a set of general maintenance tasks to bring your roof into top condition. Featured here below are a set of roof maintenance tasks each homeowner should complete each year. The tasks are as follows:
Gutter Inspection and Cleaning
Roof gutters are a gathering point all winter long for leaves, dirt, dust, twigs and branches. Once snow and ice melt, draining becomes impossible because of the build-up of the debris. Once the gutters get clogged it prevents water from draining out and the water in turn can cause destruction to a home's roof, walls, interior sheet rock, electrical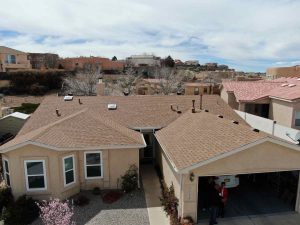 systems and even a home's foundation. Once winter ends it is critical that all of a home's gutters get thoroughly cleaned out and checked to make sure they work right and are connected correctly. If there are any issues found during a drain inspection regarding the gutters draining right or not being connected right, the problems must be fixed. Homes in Albuquerque feature gutters or flat roof drain gutters called canales. Drain gutters on flat roofs are a focal point of the roof because they are the primary exit point for rainwater and melting snow. They need to be inspected and repaired too if there are any issues.
Complete an Attic Inspection
Homes with flat roofs do not normally have an attic. However, most pitched roofs do have an attic that can easily inspected. Physically climb up to your home's entry way to its attic and complete an attic inspection. During the inspection, if you see signs of water damage, smell mildew, see mold growing or see black streaks on insulation batts, address the problems immediately. The best bet to solve any problems found is to hire a professional roofer to fix all the problems.
Roof and Nearby Tree Inspection
If your home features trees next to your home, take the time to inspect each tree several times a year to make sure it does not have branches grown out to the point where they could snap during a storm, land on your roof and do damage to it. Trim any branches that come within 7 feet of your home to eliminate this risk.
Roof Inspection and Cleaning Follow-Up
Inspect your home's roof several times per year. It's a fact that overtime roofs are a gathering spot for debris from the wind, nearby trees, storms and the weather. When you are done inspecting your roof, clean it off completely off any miscellaneous leaves, branches, dirt, twigs, trash or junk. Keeping your roof clean is the first step to knowing what issues your roof my have with respect to holes, leaks or major problems and it gives you a clear picture of what needs to be done if you do see any issues that need to be addressed right away. If you need assistance inspecting your Albuquerque roof, give the pro's at Finishing Touch Home Improvements, LLC a call at 505-489-6855. We are glad to come out and look at your roof for you, free of charge.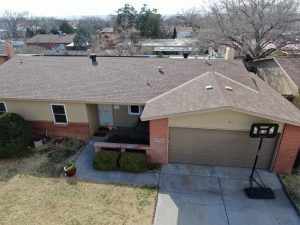 Inspect Your Roof for Mold and Rust
Most roof systems have metal built into the system. Normally the metal in a roof system is the metal flashing and metal collars around air vent pipe roof penetrations from a home's hot water system, heating system or combined heating and cooling system. When completing your regular roof inspection check for rust on all metal components. If there is visible rust, apply a wire brush to it to clean it completely. Prime the newly cleaned area, paint it with primer, let it dry and the apply a regular paint. If you find algae, mold or moss growth, clean the area and the install lead or zinc strips to stop it from happening in the future.
Inspect Roof Flashing and Mortar
Complete a full inspection of all roof flashing to check and see if it's secure and in great shape. If there are scrappy looking areas missing caulking, scrub it down and clean it well. Then apply a fresh line of caulking along all the roof flashing. Do this annually to provide a completely sealed line of defense from the elements including rain, snow, wind, dirt and dust. Applying a fresh coat of caulking to every inch of roof flashing each year just makes prudent sense to do.
Why Regular Albuquerque Roof Maintenance Makes Good Sense
People who ignore regular roof maintenance in Albuquerque, thinking it is a bother and don't do it each year are missing the boat. By inspecting your home's roof regularly and completing roof maintenance annually you will realize cost savings and prevent major repairs from being needed down the road. The old saying of an ounce of prevention is worth a pound of cure is so true when it comes to your home's roof.
If you need help with inspecting your Albuquerque roof, give us a call at 505-489-6855.