The Benefits of a TPO Roof System for Albuquerque Roof Replacement
When it's time to replace an Albuquerque roof there are a variety of good roofing systems to consider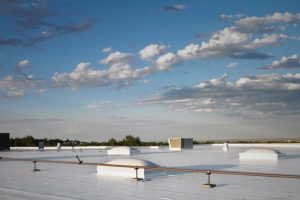 installing by a local Albuquerque roofing company. In Albuquerque there are huge temperature swings during certain times of the year. One minute it can be 30 degrees out and by the afternoon it can be 80 degrees. On top of that, with Albuquerque's high altitude, its high concentration of UV sunlight, high winds and occasional snow fall, roofing materials on an Albuquerque roof are subject to a lot of wear and tear due to nature.
One roofing system available today to heavily consider using is TPO (thermoplastic olefin) roofing. The product is known for its similarity to PVC (polyvinyl chloride) roofing and EDPM (ethylene propylene diene terpolymer) but it does not those products known issues or additional costs. TPO roofing features high UV resistance, high heat resistance and it is heat weldable.
TPO Product History and Definition
Roofing materials are designed so they last a long time. When roofing product companies were looking at the shortcomings of PVC and EDPM roofing they determined a better product needed to be developed. Montel produced the first TPO roofing product. The first installation of the product it has been reported occurred in Michigan in 1986. Over the years multiple companies have entered the super lucrative TPO roofing product manufacturing, with GAF, Firestone, John Mansville and Carlisle turning out to probably be biggest players offering the product since 1986, when the product first showed up in the marketplace. Thermoplastic Polyolefin (TPO) is a single-ply reflective roofing membrane made of polypropylene and ethylene-propylene rubber polymerized together. It is typically installed in a fully adhered or mechanically attached system, allowing the white membrane to remain exposed throughout the life of the roof.
The membrane is composed of three parts:
TPO polymer base.
polyester-reinforced fabric middle (scrim).
thermoplastic polyolefin compounded pinnacle ply.
Fillers commonly used in TPO production include, but are not limited to talc, fiberglass, carbon fiber, and wollastonite. Rubbers commonly used in TPO production include ethylene-propylene rubber and EPDM.
TPO Roofing Pluses
Cost
TPO roofing is a great option to consider using for homeowners and commercial building owners
Product Resilience
TPO roofing is amazingly good at being able to withstand high UV sunlight, chemical breakdown, be resistant to bacteria, algae growth and handle dust and dirt build up, without breaking down. TPO's membrane flexibility makes it resistant to structural damage due to impact from things like hail and tree branches and it can stand up to tearing and puncturing.
Easy Installation
TPO is light, it is easy to work with due to its flexibility and it is easier to install because of these factors plus because there are less seams to seal. Because of all these pluses TPO roofing materials mean savings for the end user, the homeowner, because it does not take long to install and there is not as much work involved to complete each installation.
Energy Savings
TPO roofing is liked by homeowners because it generates energy savings due to lower home cooling costs. The white reflective surface of TPO roofing material surpasses the US government's EPA energy star standards for roofing. HVAC costs go down on homes and commercial buildings after TPO roof installation. Plus, TPO roof homes and commercial buildings stay cooler in the summer when it's blazing hot outside.